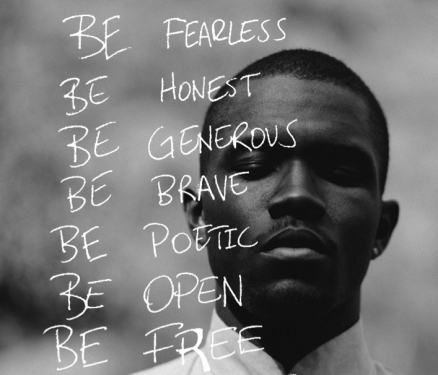 So I, much like everyone else, was absolutely blown away by Frank Ocean's debut album Clockwork ORANGE. His voice is so soothing and rich and just something very refreshing. Essentially he has solidified himself as the polar opposite of other OFWGKTA member Tyler, the Creator, and it actually works perfectly. It gives their crew such a large fan base.
However, many people are extremely disappointed by Frank Ocean deciding to cancel his European tour, which included opening up for supergroup Coldplay, something that would definitely solidify him as a important and mainstream popular artist. According to a statement he provided to MTV news, he was not very happy about it:
"Let me start by saying I feel like an asshole right now, but a tough decision had to be made in regard to my schedule over the next months and the casualties of that decision include my appearances at upcoming festivals in Europe and my opening slot on the European leg of the Coldplay world tour. Sorry as fuck, I'll be back if you'll have me."
Although he sites scheduling conflicts, it is rumored that his voice is starting to give out a little bit and needs some time just to recover. In fact, at a festival in Norway he just walked off stage after four songs, with concert officials telling the crowd that he just got sick and lost his voice. Obviously his vocals are important to him and he doesn't want to go out in front of sold out stadiums and not perform his best. Hopefully he decides to tour soon.
Although you don't have any live shows for Frank Ocean to give his songs new life, you have a ton of remixes. With such an amazing voice and great production on his tracks, he has had people lining up to remix him. And a great remix has come from Lonsdale Boys Club.
Now, these guys aren't just remix artists but actually have a lot of original songs. Based out of the UK, they are very popular in their own right, having gone on tour with The Kooks and The Ting Tings. They have the same producer as Gym Class Heroes and are now selling out tours in England when they are headlining.
They give Ocean's song "Thinkin Bout You" a little bit more of a funky feel, while still profiling those amazing vocals. Definitely a must download.
Download: Frank Ocean – "Thinkin Bout You (Lonsdale Boys Club Remix)"