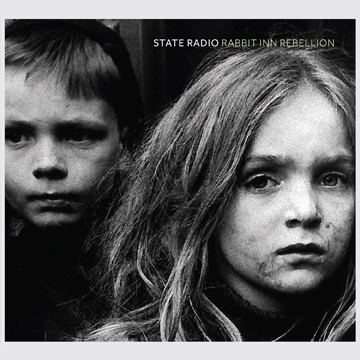 I cannot say enough about how much I love Chadwick Stokes and how amazing he is at churning out great albums. It was only a few months ago when I wrote my album review on Dispatch's new album Circles Around the Sun. Now, only 2 months later to the day, he has released yet another album with his other band, State Radio, entitled Rabbit Inn Rebellion. While Circles Around the Sun was Dispatch's first studio album in a decade, State Radio has been still touring and making albums, their last album coming out in 2009 with Let it Go.
What gives Chadwick Stokes his indie vibe is the storytelling he has with his songs. Each song is a story with some deep meaning. What also is great with this album is Chadwick released an album with commentary on each song before you here it which gives you a glimpse into his thought process and where he comes up with song ideas.
SIDE NOTE: The only place I could find this commentary album is on Spotify. If you like music, I STRONGLY suggest getting Spotify Premium. 10 bucks a month for basically any song you can think of, and some albums and songs you can't find anywhere else. Also, Spotify works online so if you don't have Internet you can't listen to it. With Premium though, all you need to do is like a song, and it automatically goes to a playlist where you can listen to it offline. They should pay me for this plug.
Anyway, what makes State Radio different than Dispatch is that State Radio is much more political (even though Dispatch's last album was pretty political too). This is apparent in songs such as "Big Man", which is about Wall Street and their ties to Washington D.C., and "Take Cover" which is about the strangeness of the fact that America is currently in 2 wars, yet it seems like we are in a time of peace.
Another aspect of State Radio I also like is their ties to Boston and Massachusetts in general. I am not from there, but there is something endearing about a band who stays close to their roots and constantly mentions where they are from. Examples of that are "Freckled Mary" which is about the streets of Boston and the projects where people are succumbing to drugs and "Adelaide", which is a true story about Chadwick's brother leaving Worchester, Massachusetts and moving to LA with a girl he met on an Indian Reservation in LA.
If you want storytelling, this album is for you. Personally, I think this is by far my favorite State Radio album. However, compared to Dispatch, which more people know of, it is probably a middle of a pack, but definitely better than their latest album Circles Around the Sun.
Worth a listen, and conveniently Chadwick Stokes put the album on Soundcloud for streaming, take a listen.